May 14, 2017, Honolulu, Hawaii.
Carroll's focus is on how Scott Enright, Director of the Hawaii Department of Agriculture, as well as other department heads including DLNR and Agriculture, run their departments under the management of Governor David Ige. Scott Enright has come to the forefront due to his, and his department's, oversight of issues at the Big Island Dairy in O'okala, on the Big Island of Hawaii.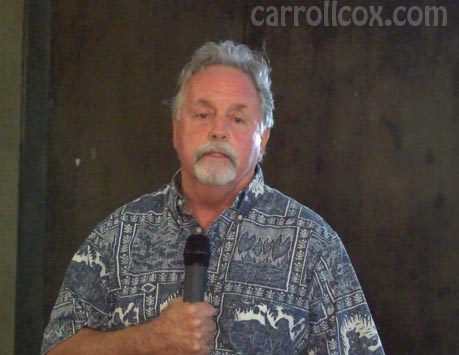 Scott Enright
The Department of Agriculture is landlord to, and responsible for the property the Big Island Dairy is built on. Scott Enright told the O'okala community, at their March 28, 2017 meeting, the Department of Agriculture would pay the Department of Health to take water samples due to the community's concerns about their health and the quality of their drinking water. Carroll requested a follow-up, and more information from Enright, but has not heard from him.
Carroll believes Enright is supporting the dairy to the detriment of the O'okala community and the environment, and explains what he has learned from his research.
Carroll tells us that, at the 3/28/17 community meeting, Scott Enright brought in Tim Richards, a Big Island veterinarian who is also a county councilmember, to say the dairy looks like a good operation. This is after visiting the dairy for just a few hours. After several community meetings in O'okala, a Notice of Violation was finally issued to the dairy this month (see attached).
Carroll also notes, back in 2008 Scott Enright petitioned the EPA and Hawaii Department of Health, asking that Tradewinds Forestry Products not be allowed to build a veneer mill in O'okala because they would be in violation of the Clean Air and Clean Water Acts. But, now he is advocating for the Big Island Dairy, and the dairy is much worse. (Link here to Enright's 2008 petition).
Time to tell Hawaii's Governor David Ige to fire Scott Enright as Director of the Hawaii Department of Agriculture for poor performance and incompetence at gov@hawaii.gov.
Carroll's videos of the March 14 and March 28 O'okala community meetings with the Big Island Dairy can be viewed on YouTube channel Cox7826627. Scott Enright speaks in the March 28 meeting, Part 2.
Carroll has been discussing the Big Island Dairy over the past two months. He has also discussed the proposed industrial dairy to be built on Kauai many times in the past. See our PODCAST LIST to find past shows.
| | |
| --- | --- |
| | |
| | |
| | |
Pictures above recovered by Carroll Cox. Link here to more disturbing pictures.