Jim Bannigan is in the studio to talk about the Honolulu City Council and Bill 37, currently under consideration to reinstate tipping fee waivers for recyclers. First, the council passed Bill 47 to cancel all waivers, then approved Bill 37 to reinstate most of the waivers. Mayor Carlisle vetoed Bill 37. The council will vote again tomorrow, 6/27, to override the veto. Call your concilman if you are concerned about Bill 37 and flip flop politics!
The second hour Carroll talks about an illegal dumpsite he found (thanks to a call from a citizen like you) containing waste from Norwegian Cruise Lines. Carroll found keycards, glasses, carpeting, documents and other items in the dump that were clearly from NCL. Alledgedly the items were dumped by The Trashman, LLC, which has a contract to pick up NCL's trash from its ships, including the Pride of America. On Friday night, 6/24, the story was featured on Hawaii News Now. For more information, and to view the news story and pictures of the trash (Link Here).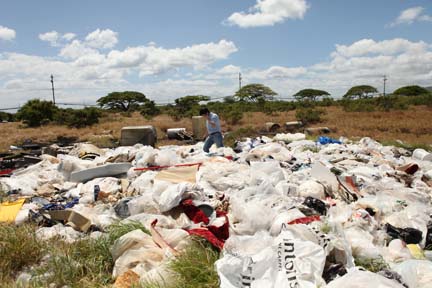 Trash from NCL's Pride of America

Illegal Dumping is an eyesore and harms our environment

John Guinan, owner of The Trashman LLC,
talks trash by a manhole in Campbell Industrial Park
On Monday, 6/27, NCL started cleaning up the trash.

Link here for pictures of the cleanup.