| | |
| --- | --- |
| | THE CLEANUP BEGINS |
On Monday, June 27, crews started cleaning up an illegal dumpsite containing municipal solid and hazardous waste. Sources at the site told us Norwegian Cruise Lines has talen responsibility for the material and initiated the cleanup at their own expense. Monday's cleanup crew included professional workers from P.E.N. Co., a company with expertise in cleaning up chemicals and other waste, as well as a number of workers from The TrashMan LLC, the company who routinely hauled waste generated by the NCL's cruise ship, Pride of America.
Soil samples were taken and will be analyzed. The liquids contained in 255 gallon drums and thermal totes were tested and identified as solvent, oil, and another unknown chemical. Testing will continue on the unidentifed substances. The liquid waste was hauled away and on Tuesday the crew will return to remove the contaminated soil.
This incident shows just how easily the generator of waste and the landowner can be victimized by unlawful dumping. The workers from The TrashMan, LLC told us that someone stole the company's containers and dumped the trash in the field. If that is true, then the company should re-evaluate its practice of securing its containers to prevent theft. Is the Brooklyn Bridge still for sale?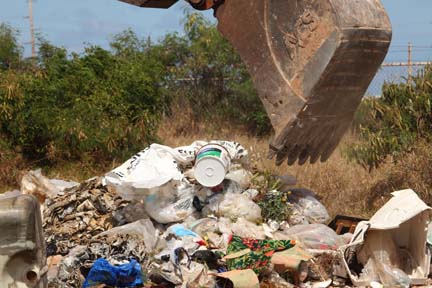 Unfortunately NCL and the property owner are left with the responsibility of cleaning up the waste.