This week Carroll talks about the corruption involved in grants made to various nonprofit organizations. He gives examples of how they work, what happens to the funds, and what happened to the people involved. For many of the organizations, part of the funds targeted for the benefit of the Waianae Coast were unaccounted for and the remainder of the grant money was put back into the general fund, cheating the public of the intent of the grant. Turns out, very little grant money targeted for the Waianae Coast is being used to benefit the Waianae Coast. Was this deliberate? Hannemann, Carlisle, Caldwell, and Ernie Martin are some of the people involved in the underhanded dealings. Documents recovered from the city Department of Community Services list many of the organizations that cannot account for their grant money. Apparently this is "business as usual".
An eyewitness tells us about seeing the attempted rescue of sheep stuck on a ridge in Makapu'u. Last Sunday a man repelled down the ridge to try to save the sheep. The sheep, in their panic at seeing the approaching man, managed to jump away and, as a result, saved themselves. However, it should be noted that, because the state left the sheep standing on the ridge for four days without doing a thing, a concerned citizen felt he had to do something on his own. It could have been a disaster, and we are lucky it turned out OK. A sad story....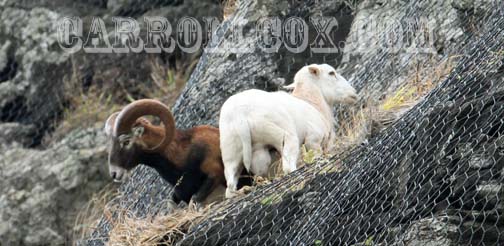 Later, in the second hour, Carroll talks about the Sand Island Treatment Plant. Recently Councilwoman Anne Kobayashi introduced a resolution in the budget committee requesting an audit of the ENV's contracting practices, including looking for violations of the procurement code. The Synagro and Covanta contracts appear to be the primary triggers of the audit request. Link here for the document.
CAUGHT!