Carroll talks about his uncovering the story of radiation leaked at Kaneohe Bay Sandbar after a Marine helicopter crashed on March 29, 2011. The leak was never disclosed to the state, the first responders or the public. Why the big coverup? The Marines claim they did a thorough cleanup at the crash site. But, the material was transported to a second site that also had to be decontaminated due to their negligence and mishandling of the material. One soldier's truck had to be dismantled in order to decontaminate it. So, what about the rest of us? The Marines are still trying to low play the situation.
Listen to our show for the whole story, and read the story and view more pictures here including our questions about the subject and documentation about the IBIS system. Click here for pictures of the original crash.
---
Carroll also tells us the City and County Lifeguard Division was warned about high tide and strong currents expected over the Labor Day holiday at Kualoa Regional Park, but they decided not to man the lifeguard station. On September 2 two soldiers died and two others rescued by bystanders. This incident probably could have been avoided if a lifeguard was there. Read more about it here.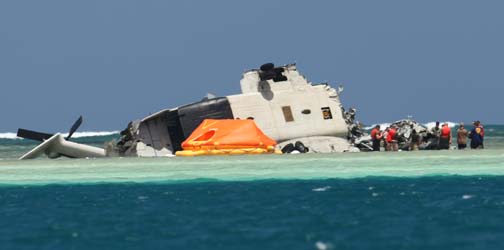 3/29/11 - IBIS Units containing radiation, and helicopter parts touched by the units, were put in the orange raft for transportation back to the base. Later personnel and areas the raft touched were decontaminated.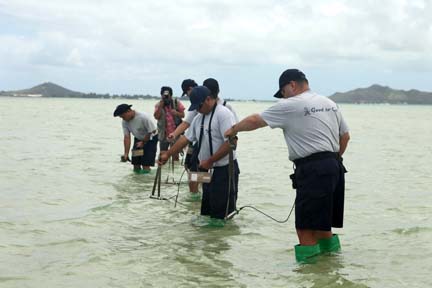 9/2/11 - Checking for radiation after our report- do they really think it stays around in moving water?
The t-shirts say "GOOD TO GO". What do the boots do?