August 6, 2017, Honolulu, Hawaii.
Carroll tells us he has not received any more information regarding the many defaulted city and state contracts with PSI, Inc., and PSI's projects are still in limbo. How did PSI receive so many contracts? He then asks questions about how the Biki bike project got to the point it is today without public input or an Environmental Impact Statement or review. Looks like it just takes friends in high places to get things done.
So, how did Biki, a nonprofit organization, get the use of city and state resources for its project? Carroll did some research that raises several questions about board members of the organization. In particular, he notes the involvement of Mike Formby, an Observer Board Member of Biki. Formby is now Chief of Staff for Colleen Hanabusa, but was formerly the Director of the State Department of Transportation. A December, 2014, letter to the State of Hawaii, indicates Formby, as director of DOT, set up bike projects, including bike stations, bike racks, etc., as one of several types of infrastructure projects that are exempt from Environmental Impact Statements or review.
Curious, Biki has "sponsorships" that advertise on the bikes:
The Biki bike racks are on sidewalks all over the city. In some cases they take up half the sidewalk, leaving little room for pedestrians and presenting a hazard to the disabled and visually impaired. Not only that, with all the pushing of bikes as a great mode of transportation, the city is neglecting the bike paths we already have.
| | |
| --- | --- |
| | |
| | |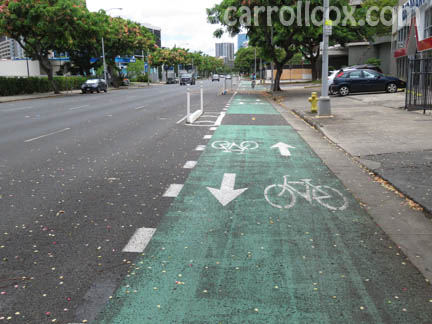 Got the bikes, what about the path?

Watch where you ride