May 6, 2015 - Link here to video of Carroll Cox on ThinkTechHawaii, discussing watchdoging the government on the environment.
Carroll talks about problems with management at the National Oceanic and Atmospheric Administration (NOAA) as noted by unhappy employees and contractors in a review done by Deloitte and Touche dated 12/5/14. He also discussed the death of a monk seal N24).. Monk seals are a critically endangered species, so every death is a big loss. Unfortunately, the seal died shortly after being removed from the wild to "prevent it from being impacted by diesel fuel from a sunken tug boat off the coast of the island of Oahu". At the time of its removal the seal was pregnant. However, shortly after capture and its release back into the ocean a few days later, the seal miscarried and later died. Thus, two seals were lost. According the National Marine Fisheries Service, it "appears" the seal died from toxoplama gandii, not from its recent capture and handling. For more information, please read Carroll's email to NOAA asking questions about the seal's death. NOAA has not responded to the questions or Carroll's phone calls. Some of the questions regard concerns about NOAA's claims that the seal was being monitored for many months prior to, and then after the fuel spill and capture. Carroll reads from a blog published by seal volunteers supposedly monitoring the seal's activities and health. We could not find any published information where NOAA actually investigated if the seal was affected by the move. Link here to an article regarding the lack of information from Mr. Michael Tosatto, Regional Administrator, United States National Oceanic and Atmospheric Administration (NOAA) National Marine Fisheries Service, Pacific Islands Regional Office, regarding N24, and a request for the public to write to NMFS regading the situation.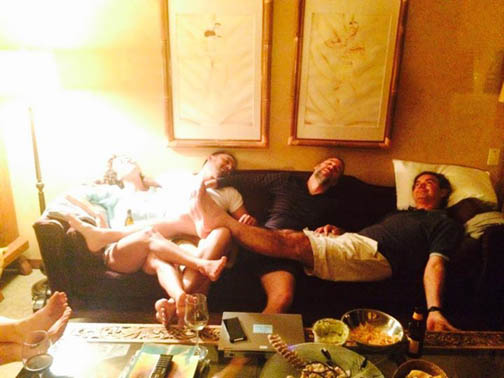 Do seals die while (happy?) employees play? (picture of seal team from facebook)
NOAA, and the National Marine Fisheries Service, is charged with protection of our fragile marine resources. Per the employee review conducted by Deloitte and Touche, NOAA seems to be a badly broken agency. Carroll reads some of the comments from the review. (See review here.) Per the review, the chain of command is a problem, and 70 percent of the employees would work somewhere else if they could. How does that affect our resources? How will that affect the monk seal?
Carroll brings up another point. NOAA claims toxoplasma gandii is caused by cat and other animal waste. Carroll has been talking about opposition to the proposed commercial dairy on Kauai that will potentially release a large amount of cow waste into the ocean. How will that effect the monk seals? An environmental impact statement concerning the monk seals and marine mammals has not been done. Carroll believes, if the N24 seal died from toxoplasma gandii from a cat as NOAA claims, then we need to know the impacts other feral and domesticated animals present to marine mammals. We also believe the proposed dairy at Maha'ulepu, Kauai, should require a comprehensive review and strong impact statement regarding its impact on marine mammals found in the area.
---
Cathy Goeggel of Animal Rights Hawaii talks about lions, tigers, bears, and the upcoming state fair. Animal Rights Hawaii wants to stop dangerous animals from being transported here for temporary shows. The animals are on a restricted list and normally banned from importation to Hawaii. Last week a permit was issued to E.K. Fernandez, without a public hearing, to import three grizzly bears from Florida. Cathy noted that those particular bears once escaped for three days while in Florida. Cathy noted the governor previously told Animal Rights Hawaii permits would not be issued until a decision is made regarding the issues of concern. Once again, the government is making major decisions without public input. Cathy is asking the public to call the governor at 586-0006, and ask him to rescind the permit. Also check the Animal Rights Hawaii facebook page.
Follow: Carroll Cox, NOAA, NMFS, National Oceanic and Atmospheric Administration, National Marine Fisheries Service, monk seals , seal death, Cathy Goeggel, Animal Rights Hawaii, haupu, N24, Monk Seal Blog Spot, Ocean Associates.Michael Tossatto
Following photos courtesy of Mr. and Mrs. James McMann: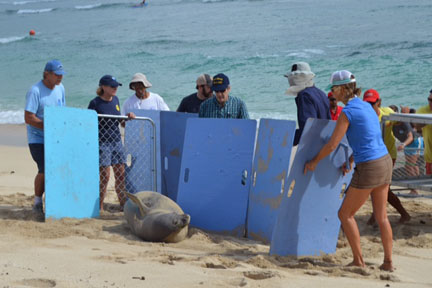 Is this traumatic for the seal ?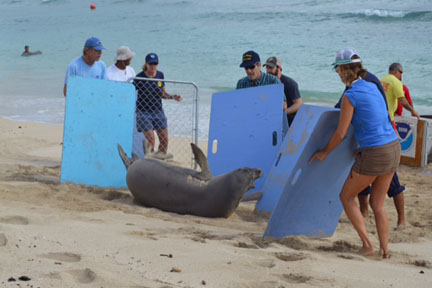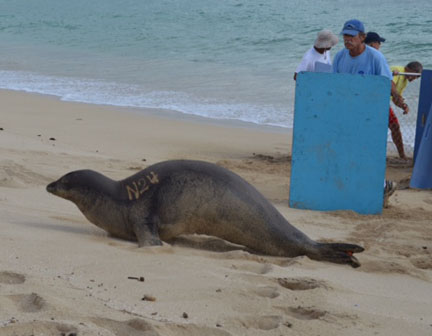 Note, seal marked as "N24" on shoulder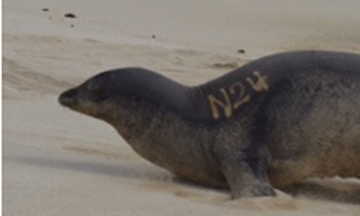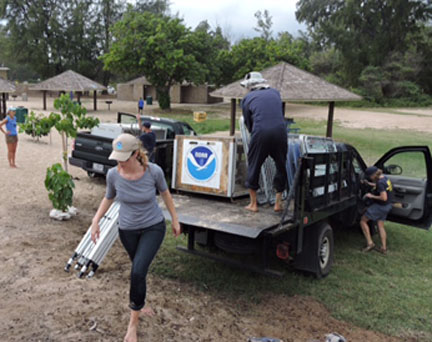 Seal N24 was placed in a NOAA crate and transported from White Plains Beach to
Ford Island on this truck. How traumatic was that?