Carroll's guests are Wes Nakama and Jason Ubay from AAJA - the Asian American Journalists Association. They discuss the very moving documentary film "Vincent Who?", to be screened Tuesday, May 1, 2012, from 5 to 7 pm at the downtown Laniakea YWCA, Fuller Hall. There will be a panel discussion with the film maker before and after the show.
Vincent Chin, a Chinese American, was beaten to death in 1982 following his bachelor party, because of his race. His last words - "It isn't fair." His killers got probation and a fine, and similar incidents repeat themselves today. Tickets are available at www.ywcaoahu.org/vincentwho. Check out the movie trailer at www.vincentwhomovie.com. Learn more about AAJA at www.aaja.org.
---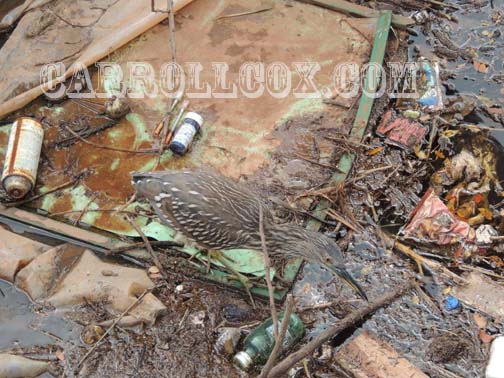 We found medical waste in a Waipahu stream.

Also, a lot of other trash, shopping carts, etc.

Why do we keep doing this?
A picture of health

An aku'u tries to cope