Carroll's guests are Kanoe Cazimero, and Iwalani Tseu, head of the Iwalani Foundation dedicated to breast cancer awareness. They want you to know how important early detection is, not only for women, but for men and children too. If you have cancer, their message is to be strong and take charge of yourself. Do your own research, and ask for help. Even if you do not have insurance, community health centers have programs and provide referrals for help by those who have gone through the same experience. Ask questions, get second opinions, know your body, and be your own advocate.
They also tell their own stories, discussing finances, family support, causes, cures, nutrition, coping, and learning to do what's right for you
Callers tell their own stories, and tell us how the Iwalani Foundation helped them take charge, avoid stress, and make their health their number one priority.
Iwalani Foundation is local, and is there to support you, the women of Hawaii, one on one, with aloha. The foundation's phone numbers are 623-6776 or 778-0201. Their email is iwalanihula1@yahoo.com To make a donation, their website is iwalanifoundation.com. Kanoe can be reached at 224-0767.
Iwalani and Kanoe are putting together a book, Magnificent Women of Hawaii, with pictures, stories, and important information. They need your help to get it done. All donations will be very much appreciated.
Come to a Hulathon! On Lei Day, Friday, May 1, from 9 a.m. to 9 p.m., the women of Iwalani Foundation will be dancing hula, playing music, and discussing breast cancer at the Ward Warehouse amphitheater. Come and dance, or just for support and encouragement. They will also be selling $5.00 passports for Ward store discounts, with proceeds going to the foundation.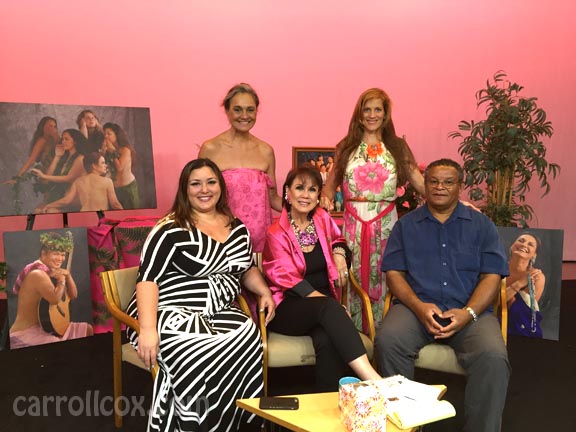 Carroll with today's guests
---

Carroll has written an article regarding corruption and waste of money within the Department of Land and Natural Resources under Chairman William Aila, with examples of Frazer McGilvray, a program administrator for a little over one year, flying first class and receiving other perks (as discussed 3/15/15), and Wilson Keahi allegedly renting and illegally leasing out state land that is adjacent to property he leases from the state to other boaters. Nineteen months ago, after an investigation, nothing happened. Link here to read the article to see what happened after Carroll started asking questions.

The Carleton Ching nomination was only a small part of the problem. The entire DLNR needs to be looked at.

Follow: Carroll Cox, Iwalani Tseu, Kanoe Cazimero, Iwalani Foundation, breast cancer, Pictures Plus, surgery, Susan Komen Foundation.
Night blooming lily
---