City Audit finds Honolulu's Division of Environmental Services broken.
A December, 2015, audit report conducted by the Honolulu Office of the City Auditor concluded the Division of Environmental Services (ENV) "approved many payments that were excessive, questionable, and not fully supported."
The audit was conducted at the request of the Honolulu City Council pursuant to City Council Resolution 12-150, CD1, which requested the City Auditor perform an audit of the ENV's contract, including its procurement practices, to ensure that it is operating efficient, effective, and in compliance with all applicable laws and policies.
One of the operations the audit focused on was the Honolulu Program Energy Recovery plant (H-POWER} located at the Campbell Industrial Park in Kapolei, Hawaii on the island of Oahu.
Some of the problems the audit found are:
After awarding the original contracts. ENV used 79 contract modifications (amending change orders, and task orders) to construct, improve, expand, and refurbish the H-POWER facility. Those modifications caused a cost increase from $313.7 million to over $993.7 million (including contractor, construction and operating cost).

ENV failed to include in the $993.7 million another $14.7 million it paid in consultant contracts.

The audit further states that ENV did not fully comply with State of Hawai'i Procurement Code and city policies related to sole source, cost-plus, and time and materials contracts.

ENV contracts limit the City's access to records, allow contractors to curtail records retention, and limit the city right to audit.

ENV relied on the contractor, consultants, and external law firms to negotiate the contract terms and conditions.
The Auditor opined that these procurement practices contributed to the non-compliance with state and city contracting policies for sole source, cost-plus, and time and materials practice, contributed to non-compliance with state and city contracting policies, and reduced the city's ability to minimize costs, and detect fraud, waste, and abuse.
We have also been talking about the planned photovoltaic facility and operational activities at H-POWER on our radio show. Regarding this, the audit further states; "We followed up on ENV consultant procurement practices by reviewing a July 2015 consent decree among the city, the U.S. Department of Justice, and the U.S. Environmental Protection Agency related to installing a photovoltaic system at H-POWER. ENV issued Amendment 4 to the HDR Engineering contract and increased the multi-term contract amount $175,000 from $10.5 million to $10.7 million without re-soliciting bids and without advertising, as required by city and state policies for professional services contracts. The amendment also continued to authorize $59 per hour for engineering and field student interns."
HDR Engineering has also benefited from the city. The company is registered on the Department of Commerce and Consumer Affairs (DCCA) as a foreign profit corporation out of Omaha, Nebraska. Carroll compared the list of officers to the Hawaii Campaign Spending Commission Report showing Mayor Caldwell's filing for campaign contributions between 2012 and 2014. Ten contributors from HDR were listed with amounts between $1,000 and $2,500, for a total of $17,500. Six of the ten doners listed were officers on the DCCA site. HDR Engineering has a consulting contract to examine the overall material condition of H-Power, not to exceed $50,000. However, the original $50,000 contract has increased to $650,000 through use of non-competitive contracts. Not only that, ENV approved higher rates for senior engineers, from $146 to $175, and from $207 to $282.
This posting will be followed by other postings as we read and review the results of the audit. We suspect that this audit could possibly speak to many of the cost overruns we are witnessing with the rail.
Listen to The Carroll Cox Show on the radio, KWAI 1080AM, Sunday mornings from 9 to 11 a.m., for more discussion about H-Power.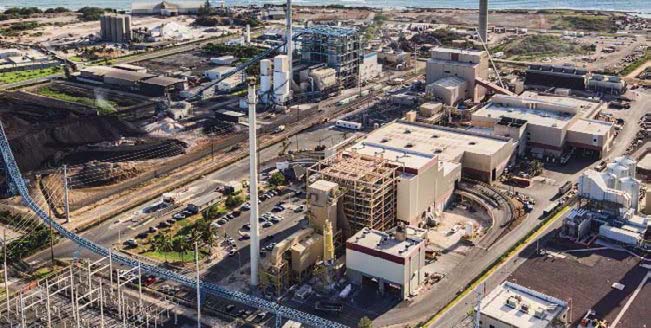 Source: Environmental Services
Meanwhile, the EPA is complimenting H-Power, even though it has also been shown H-Power is exceeding pollution levels. Read the City Council's Resolution regarding H-Power here.

Link to Carroll's 11/8/15 show, 11/29/15 show and 12/13/15 show for additional information about the City and County of Honolulu's Consent Decree to build a solar-voltaic building at H-Power. Carroll also discussed H-Power on the John Nolan Show, Monday, 12/14/15, 6:00 p.m. Link here to listen

Link here to Carroll's 12/2/15 formal letter of complaint to Steven Chang, Department of Health, regarding Covanta's application for a permit to recycle white goods in the new solar building . Carroll requested and justified why the permit should be denied, including state laws and endangered species sanctuaries. He has not received a response.