| | |
| --- | --- |
| | The Melting Pot Boils Over |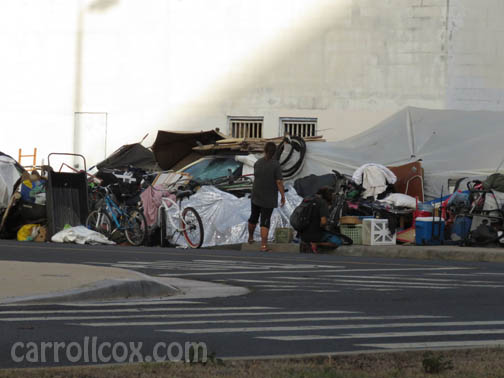 SIDE BY SIDE IN KAKAAKO
For the many years I have lived in Hawaii I have reluctantly joined the chorus referring to Hawaii as the "melting pot". But, if truth be told, very little is done here to make Hawaii truly a melting pot.
Since arriving here, and to the current day, I have witnessed many examples of ethnic inequalities. The scene in Kakaako is bad, but it might be a warning to us all that the chorus line has manifested itself into the reality that, right here in this beautiful place called Hawaii, we have ethnic inequalities.
An inadequate number of affordable homes, ineffective government, corruption, fraud, abuse, and double dippers of government pensions are what is causing some of the problems that seem to be increasing on a daily basis. While so many people are sleeping on the streets, million dollar condominium projects are going up next door.
Could Kakaako be the long awaited catalyst that stimulates each of us into doing something to ease the suffering of our fellow human beings and their children?
Will we idly stand by and let the politicians waiver and punt this human tragedy down the road? Go ahead and give your government leaders a call and tell them to correct this inhumane treatment of our fellow human beings.
A large number of the people that live in the tents on Kakaako's sidewalks are native Hawaiian. This begs the question, If Hawaii is supposed to be a melting pot, how is it that so many Hawaiians and Pacific Islanders are the ones ending up on the sidewalks.
Carroll
| | |
| --- | --- |
| | |
| | |
| | |
| | |
| | |
| | |
| | |
| | |
| | |
| | |
| | |