| | | |
| --- | --- | --- |
| | OUR MISSION | Mr. Grant Lau delivering meal to client in Kaimuki |
Hawai'i Meals on Wheels is dedicated to helping Oahu's elders and individuals with disabilities preserve their independence at home. We do this primarily by providing hot, nutritious meals and regular personal interaction with those we serve.
---
OUR VALUES
Opportunity We strive for the comfort and well being of our clients by offering them an opportunity to receive a hot meal delivered personally to their home.
Respect & Dignity We believe in treating all our clients, volunteers, and staff with the utmost honor, caring, respect, and dignity.
Volunteers We encourage service through volunteers as we expand our outreach to meet a growing demand.
Independent We are committed to insuring our own financial independence in order to help our clients preserve their independence.
Quality We are dedicated to the highest quality of our services, our meals, our staff, and our organization.
Community We seek to be a part of a community ohana, fostered by teamwork and collaboration with like-minded organizations.
Communication We actively promote our mission in order to increase its awareness among community leaders, organizations, volunteers, and families.
---
OUR STORY
Hawai'i Meals on Wheels was founded in 1979 to provide a home delivered meal service for frail elderly and disabled persons who were unable to cook or shop for themselves and did not have access to help for these essential functions. We are a private, not-for-profit 501(c)(3) organization.
Irmgard Hörmann and the Social Ministries Committee of the Lutheran Church of Honolulu spearheaded the formation of a committee representing different denominations and several Honolulu churches to provide a basic nutritional and human support system for their isolated, disabled, and frail elderly neighbors.
The other founding churches included Central Union Church, Church of the Crossroads, Manoa Valley church, The Parish of St. Clement, First Unitarian Church of Honolulu, First Christian Church, First Presbyterian Church and First United Methodist Church.
The service began with two small routes in Makiki and Moiliili, six clients, six volunteers and $25.
As we enter our 30th year, Hawaii Meals on Wheels has grown in response to an increasing need for hot, home-delivered meals. We have served over 400 homebound elderly and disabled individuals this past year. Over 64,000 meals were served and an additional delivery route was added in the last year.
Meals are prepared by nine kitchen care home, hospital and commercial kitchen partners. This enables volunteers to pick up meals at a location in their immediate community and deliver them to their neighbors. Institutional kitchens also enable us to be able to meet the need for medically therapeutic meals, such as low sodium, low fat and pureed meals.
Grant Lau reviewing meal delivery list and

sorting meals for clients
Forty-one delivery routes now extend from Hawai'i Kai to Kalihi, 'Aiea to Pearl City, Kane'ohe to Kailua, Waimanalo, Mililani and Ewa to Ewa Beach.
Hawaii Meals on Wheels has a delivery force of over 300 volunteers. Many of these volunteers are retirees who are productive friendly neighbors bringing food and personal interaction to those who need it most in our communities.
Every Monday through Friday, including holidays, the dedicated volunteers from Hawaii Meals on Wheels provide hot and nutritious meals with aloha.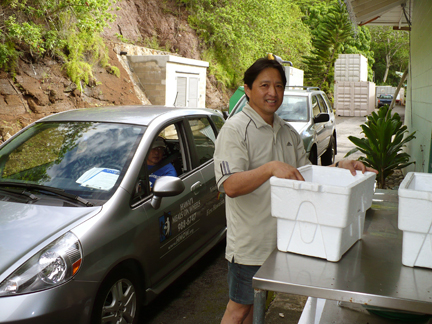 Volunteer Wayne Hong picking up meals to be deliverd in Hawaii Kai
---
TO VOLUNTEER, CALL
Hawai'i Meals on Wheels, Inc. Phone: 988-6747 Fax: 988-5719
Website: www.hmow.org Email: hmow@hawaii.rr.com