| | |
| --- | --- |
| | THERE'S NO BEEF! |
The recent scurry by Hawaii State Senator Clayton Hee to introduce animal cruelty bills has caught my eye. I am most curious about the senator's new found and intimate relationship with the Hawaiian Humane Society's President and CEO, Pamela Burns, and the Humane Society of the United States Representative Inga Gibson. I am always appreciative of any effort to protect and enhance the life of animals and support the humane and ethical treatment of all living creatures large or small, flying, swimming, walking or slithering. However, the recent effort to introduce bills to address and prevent "animal cruelty" caused me to take a closer look at the driving force behind the aggressive and hurried introduction and passage of several of the animal welfare related bills. During my research I learned that Senator Hee reported he received campaign donations from Pamela Burns and Inga Gibson. He also reported he received campaign donations from Stephanie Ryan and Alicia Maluafiti. The Hawaii business license records show that a Stephanie Ryan is the agent and president of the Oahu Society for the Prevention of Cruelty to Animals and Alicia Maluafiti is a registrant, and president, of a humane organization called Poi Dogs and Popoki.
It is common knowledge that politics make strange bed fellows. These relationships take this to another level when you take into consideration that Senator Hee is also a strong supporter of cattle ranching and the raising of cattle for the meat industry. He also has strong financial support from these particular special interest ranchers and farmers. Senator Hee is also supported by the slaughter houses. Senator Hee indicated in his campaign spending reports that he received financial support from Andrade's Slaughter House, Maui Cattle Company, Ulupalakua Ranch, Inc., Panoholo Ranch Limited, Kualoa Ranch , Kaupo Ranch, Ltd, Farias Cattle Company, Hana Ranch Partnership, and the Kahua Ranch Ltd.
A perfect world is not how one would describe the modern day world we live in, but it is still fair to ask Burns, Gibson, Maluafiti and Ryan, what laws they asked Senator Hee to introduce to reduce the cruel and inhumane treatment of farm and ranch animals received here in Hawaii.
Take, for example, a recent shipment of cattle that was shipped from the Island of Hawaii to the Island of Oahu, then placed on another ship and sent to the mainland to be slaughtered. The cows had to endure some of the roughest sea conditions we have seen in while - packed tight and thrown around inside a cattle truck on top of a barge.
Senator Hee is also a strong supporter of the rodeo industry, and reports that he is actively involved in the Rodeo Association as a board member and competitor. Will Ms. Burns, Gibson, Maluafiti or Ryan be asking Hee to introduce legislation to address the cruel and painful practices associated with rodeos?
Senator Hee is not a phoenix rising from the ashes. He is merely a politician that is anxious to grab the limelight for his political aspirations. It is the opinion of this writer that the Hawaiian Humane Society, the Humane Society of the United States , Stephanie Ryan and Maluafiti are putting their political needs ahead of the real needs of the very animals they claim to protect.
On a personal note, I and others did most of the heavy lifting on the effort to ban shark finning in the State of Hawaii, (link here to envirowatch.org), and, in gathering the intelligence and confronting the industry players or our efforts to pass legislation banning the killing and eating of dogs in Hawaii (link here). There was no Hee then. This new found relationship between Hee, the Hawaiian Humane Society (Pamela Burns), the Humane Society of the United States ( Inga Gibson) , Stephanie Ryan and Alicia Maluafiti is alarming and begs us to ask Senator Hee why would he be courting these entities, particularly when some of them were recently involved in a case where they engaged in questionable behavior involving the use of fake badges, and some of their workers impersonating law enforcement agents. (See carrollcox.com 8/23/09 and 8/30/09 ).
It is often suggested that making legislation is like making sausage - anything goes. Admittedly, there are breeders and puppy mills and cruelty concerns that need to be legislated. This wedding of overzealous "humane" groups and an over-achieving, agenda driven, politician is, in itself, cruel and unusual punishment. There must be a better approach to the use of the legislative process. The process should not be used as bully pulpit to advance the agenda of zealous and attention depraved politicians and "humane" entities with donation driven agendas. Strangely, the very cases they site were adjudicated but failed to produce the severe and unreasonable results they seek.
As a former California Fish and Game Warden, United States Fish and Wildlife Special Agent, and founder of EnviroWatch Inc. A non- profit watch dog whose mission is to assist in putting an end to environmental injustice by way of investigating and exposing environmental degradation, habitat destruction, poaching, clear cutting, pollution, animal cruelty, and government waste and abuse, it is my personal and expert observation that the passage of new laws will do little or nothing to improve the quality and well being of the animals in Hawaii. The solution to protecting animals is to seek out and work with other organizations besides the Hawaiian Humane Society and the Humane Society of the United States.
Like the modern day doctor who prescribes a pill for every ill, Senator Hee , the Humane Societies, and their cohorts have a bill for every perceived problem. The concern that we have with this mind set is that there are unintended side effects that we are not informed about, including abuse of authority, over bearing enforcement practices, or no enforcement at all, because of the inability to hire and maintain a reputable enforcement arm.
I don't anticipate the Hawaiian Humane Society or the Humane Society of the United States getting into a beef with the cattle or rodeo industry in the near future, because of their relationship with Hee.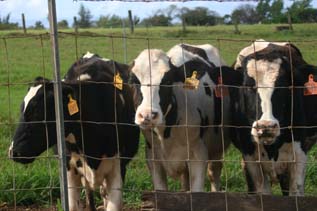 Following is information about the bills - if you want to know more about Senator Hee and his activities, read here:
---
Local Ranchers Say Production Faces Obstacles
POSTED: 4:22 pm HST March 19, 2011
UPDATED: 8:15 pm HST March 19, 2011

"If Oahu, which has a million people, doesn't have a sustainable slaughterhouse, the cost of beef and pork and other slaughtered animals rises exponentially," said Sen. Clayton Hee.
SB1041 SD 1
RELATING TO RANGE LAND LIABILITY. Report Title: Range Land; Liability of Owner; Trespass Description: Specifies that an owner of range land owes no duty of care toward trespassers under specified conditions. Effective 7/1/2050. (SD1) Companion: Package: None Current Referral: AGR, JUD Introducer(s): HEE
<![if !supportLineBreakNewLine]>
<![endif]>
SB1092 RELATING TO ANIMAL CRUELTY.
| | |
| --- | --- |
| Measure Title: | RELATING TO ANIMAL CRUELTY. |
| Report Title: | Cruelty to Animals; Offenses |
| Description: | Adds to the offense of cruelty to animals, killing or attempting to kill any pet animal belonging to another person, without first obtaining legal authority or consent of that person; exempts humane killing by an animal control officer, duly incorporated humane society, society for the prevention of cruelty to animals, or authorized government agency. |
Measure Title:

RELATING TO DOGS.

Report Title:

Dogs; Large-scale Dog Breeding; Regulation

Description:

Establishes requirements for licensure and regulation of large-scale dog breeders. Effective July 1, 2112. (SB1522 HD1)

Companion:

Package:

None

Current Referral:

ERB, CPC, JUD, FIN

Introducer(s):

| | |
| --- | --- |
| Measure Title: | RELATING TO PUPPY MILLS. |
| Report Title: | Puppy Mills; Animal Cruelty |
| Description: | Requires dog breeders of ten or more female dogs used for breeding to meet minimum care requirements to ensure the proper treatment and care of dogs and their offspring. Prohibits dog breeders from owning or having custody of fifty or more dogs used for the purposes of breeding and sale of the dog's offspring. Requires pet sellers to provide specific written documentation regarding each dog sold in order to protect pet consumers. |
| Companion: | |
| Package: | None |
| Current Referral: | CPN, JDL |
| Introducer(s): | HEE |
| | |
| --- | --- |
| Measure Title: | RELATING TO ANIMAL CRUELTY. |
| Report Title: | Cruelty to Animals; Equines |
| Description: | Extends procedures for impoundment and forfeiture for cruelty to animal offense to equines to the same extent as pet animals. |
| Companion: | |
| Package: | None |
| Current Referral: | JDL |
| Introducer(s): | HEE |
| | |
| --- | --- |
| Measure Title: | RELATING TO THE SALE OF DOGS AND CATS. |
| Report Title: | Sale of Dogs and Cats; Pet Sellers; Spay and Neuter; Identification Microchip |
| Description: | Requires pet sellers to implant an identification microchip in a dog or cat prior to sale or exchange and to provide specific written documentation regarding each dog or cat sold. Prohibits pet sellers from selling an unsterilized dog or unsterilized cat. |
| Companion: | |
| Package: | None |
| Current Referral: | CPN/EDT, JDL |
| Introducer(s): | HEE |
| | |
| --- | --- |
| Measure Title: | RELATING TO ANIMAL CRUELTY. |
| Report Title: | Animal Cruelty; Trapping |
| Description: | Requires dogs or cats that are captured or killed in a snare or trap to be reported to a county animal control officer. Establishes an animal cruelty offense for the use of steel-jawed leg-hold traps, and the use of snares, conibear, and foot- or leg-hold traps in residential or other prohibited areas; provides exemptions for activities carried out by state and federal agencies; establishes the offense as a misdemeanor. |
| Companion: | |
| Package: | None |
| Current Referral: | JDL |
| Introducer(s): | HEE |
| | |
| --- | --- |
| Measure Title: | RELATING TO ANIMAL CRUELTY. |
| Report Title: | Animal Cruelty; Dog Breeders |
| Description: | Requires specified persons who own, control, or have custody or control of ten or more dogs over age six months with sexual organs intact to meet minimum standards of care to ensure the proper treatment and care of dogs and their offspring. Prohibits any person from owning or having custody of more than thirty dogs over age six months with sexual organs intact. Requires specified persons to maintain specific records for each dog for at least three years following the death of the dog or a date on which the person permanently ceased to have possession or control of the dog. Prohibits certain types of dogs in the same enclosure with other dogs. Establishes penalties. |
| Companion: | |
| Package: | None |
| Current Referral: | JDL |
| Introducer(s): | HEE |
| | |
| --- | --- |
| Measure Title: | RELATING TO ANIMAL CRUELTY. |
| Report Title: | Animal Cruelty; Sale of Pets; Dog Breeders; Unsterilized Cats and Unsterilized Dogs; DCCA; Environment |
| Description: | Establishes requirements for breeding and selling dogs. Prohibits pet retailers from selling unsterilized cats and unsterilized dogs. |
| Companion: | |
| Package: | None |
| Current Referral: | JDL |
| Introducer(s): | HEE |
http://www.capitol.hawaii.gov/measure_indiv.aspx?billtype=SB&billnumber=1041
http://www.kitv.com/r/27252002/detail.html
http://vote-hi.org/intro.aspx?state=hi&id=hiheeclayton
http://the.honoluluadvertiser.com/specials/election2008/primary/candidate.php?c=CW9S7Y
http://archives.starbulletin.com/2001/08/21/news/story3.html
http://hawaiiranchers.com/about-us/