How do we know it started here? First of all, we have been documenting hauling, dumping, dredging, and other environmental issues, for many years. The truck that spilled the load, and was now parked on the side of the freeway, is from SER Trucking, Inc. The "mud" on the H-1 Freeway had an organic smell, like it came from the bottom of a pond or stream. Cement, and even dirt, does not smell like what was on the freeway. We knew, SER Trucking was hauling dredged materials because we knew they were looking for a place to put it. So, we called SER, and they told us the truck was hauling material from Hawaii Kai, the latch came undone, and there it was.
| | |
| --- | --- |
| SER's Truck - the cause of the problem | Some of what was dropped on the freeway |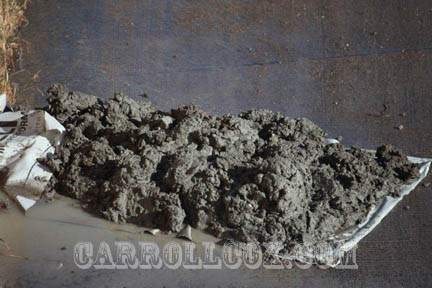 Note the texture and consistancy of the material on the freeway. It looks like the pile of mud in the Hawaii Kai pictures. Sources told us the material was originally destined for the PVT landfill, but the generator rejected the price per ton. Other sources told us that, due to the texture and consistency of the material, it was hard to work with, "gummed" the machines, and required more man hours to process it . They told me earlier this year that the price was too high and the company was looking for other means of disposing the material.