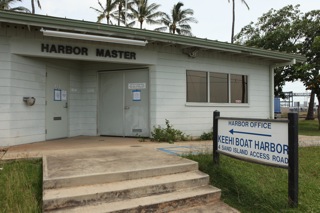 An anonymous source informed Carroll Cox of THE CARROLL COX SHOW that a former employee of the Hawaii State Department of Land and Natural Resources Division of Boating and Ocean Recreation (Oahu Assistant District Boating Manager, Mr. Wesley Choi) was under investigation for embezzlement or misappropriation of state boating funds and that he resigned as of Friday, March 18. Per my source, the resignation was allegedly "triggered after he was approached and informed by state officials that he was under investigation".
Cox confirmed with state officials that Mr. Wesley Choi resigned as of March 18, 2011, and that his original hiring date was 7/1/92 as Boating and Ocean Recreation Specialist IV. Cox then contacted DLNR Chairperson William "Bill" Aila who confirmed that there was an investigation being conducted by the Hawaii State Attorney General's office that started approximately three weeks ago. Hid did not have any further details because the investigation was still in its infancy. Aila also confirmed the investigation was triggered by information from a private citizen. He said he will have more comments later because he did not want to speak prematurely.
| | |
| --- | --- |
| Aila also confirmed Choi's last title was Oahu Assistant District Boating Manager. Cox then contacted Mr. Edward R. Underwood, Administrator for the Division of Boating and Ocean Recreation. He confirmed that yes, there was an investigation, and he was surprised by it last Wednesday, March 16. He did not have any further details other than the Attorney General's office having informed him they would be subpoenaing him and other parties about the matter. Mr. Underwood said Choi was not under his direct supervision but worked as an assistant to Meghan Statts, the Oahu District Manager of DOBAR. He said some of the duties were to oversee all five harbors on Oahu, offshore mooring, and other boating regulations. | |
We will continue updating this information as it develops. Choi worked out of Keehi Lagoon Harbor Master's office at 4 Sand Access Island Road in Honolulu.
Update: Link here to a story by KHON