Charter School officials and the Hawaii Dept. of Education

cover up the removal of two principals at

HTA - Hawaii Technology Academy Public Charter School

---

UPDATE 12/15/11: The state audit was just released (see attached). On page 50 the audit finds that it is unethical and illegal to have the principal be a K12 employee. This may be why Jeffrey Piontek was released by the Hawaii Technology Academy Public Charter School - to protect the school from scrutiny.

On 12/15 KHON also featured a story about charter schools and the state audit. Link to it here

Carroll Continues the discussion of Charter Schools on his show on 12/18/11 and 12/25/11

See our news story and pictures below.

---

Hawaii Technology Academy
On December 12, 2011, an anonymous source told The Carroll Cox Show that Mr. Jeffrey Piontek, the head of the Hawaii Technology Academy Public Charter School (HTA), in Waipahu, had been removed or fired. Having prior knowledge and having done research on several problems at the charter schools, we immediately sent questions to Sandra Goya, Communications Director of the Hawaii State Department of Education. The following day Ms. Goya told us the D.O.E. had no knowledge of Piontek's departure, and the matter did not fall under the purview of the D.O.E. She offered to forward our questions to the appropriate authority. However, Ms. Goya did not inform us to who, or what office, our questions had been sent to.
Since we did not receive a response from Ms. Goya, we contacted Ms. Anna Matsumoto, the Vice Principal of HTA, as wells as Milton Ebesu, and Roger McKeague of the D.O.E. Matsumoto told us that Piontek had been removed, but could not talk about the removal because a gag order had been issued to her and her staff. Ebesu also confirmed Piontek's removal but refused to provide any details. McKeague's office confirmed Piontek's removal, but had no further details regarding the situation. We then forwarded our questions to Mr. Louis Saint-Cyr, Chairman of the HTA and a Vice President of Hawaiian Airlines. Saint-Cyr also refused to provide answers to our questions or return our phone calls.
| | |
| --- | --- |
| We later received information that the HTA was calling a meeting to discuss Piontek's departure. We visited the HTA's office, located at 94-810 Maloalo Street in Waipahu, and found a large group of people in a meeting, being addressed by Mr. Mark Snyder, Community Representative for HTA. Snyder ordered me out of the meeting because it was not open to the public. Snyder also refused to comment on Piontek's removal. | |
Later, while sitting outside HTA's office, I was approached by Mr. Snyder . He stopped by to tell me I was parked in a no parking zone (along a city street). He also told me he had been advised by the State Attorney General's office not to discuss Piontek's removal.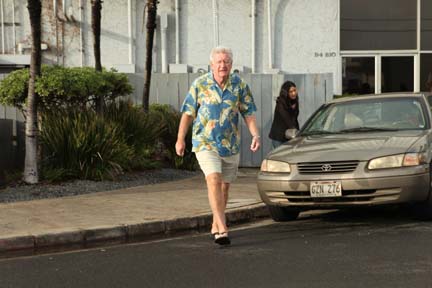 Mark Snyder
HTA contracts with K12, Inc. a Virginia-based for-profit corporation, and Jeffrey Piontek worked as a private employee, funded by K12 Inc. Allegations are that K12, Inc. fired Piontek on Monday, December 12, but no one will give us any details. Additionally, we were told that the State Dept. of Education was informed at least a week prior to the firing, but they have denied knowing anything. We also learned that earlier, another principal, Mr. Dave Randall, was removed without any notification to the public or the parents.
During our research on charter schools we learned the HTA identified Mr. Milton Ebesu, a member of its board, as a "Community Representative". We found that there is a Milton Ebesu listed in the Department of Commerce and Consumer Affairs as the President, Vice President, Secretary, Treasurer and Director of a company named "The Education Company, Inc", who's registrant is named "Education Works", and whose purpose is "Retail and wholesale sales of educational resource and supplies, audio visual equipment and office/school furniture". An employee of the firm told us the company sold some of its materials to the HTA.
We also learned that Mr. Louis Saint-Cyr is employed as Vice President of In Flight Services at Hawaiian Airlines. It should be noted that, although Mr. Louis Saint-Cyr refused to talk to us or respond to our questions, he did find time to respond to one of the Star Advertiser's reporters after we alerted the Star Advertiser about attempts by HTA to conceal Piontek's removal from the public and the media. When we attempted to reach Saint-Cyr at his Hawaiian Airline's number we were told we could only leave a message and could not phone him directly. HTA also told us the public could only communicate with Saint-Cyr by email at htalsb@myhta.org. Our emails to that address went unanswered.
Unfortunately, The Star Advertiser's article, "Charter school copes with principal's sudden departure", published on 12/14/11, fell far short of revealing the true facts about the departure of the two principals from HTA's Waipahu's charter school, only adding to the cover up. Also, they did not mention that I had informed the Star Advertiser about HTA's gag order and attempt to conceal the principal's departure. In fact, The Star Advertiser and other media were alerted to the departure of the two principals by The Carroll Cox Show, and had been informed that Louis Saint-Cyr and others close to the situation refused to answer questions. The Star Advertiser's article, and its lack of truly relevant information, gives me a clear understanding why the public has little trust for its coverage of the news and its corporate stance. Were they extending a courtesy to Saint-Cyr because he is a V.P. of Hawaiian Airlines?
Link here to an article from The New York Times about K12, Inc. entitled - "Profits and Questions at Online Charter Schools".
Link here to the state audit finding school principals cannot be K12 employees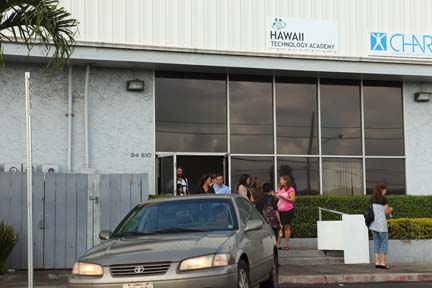 Note: We sent the following information to the news media to alert them about this matter, in order to avoid any pre-emptive news releases that may water down what really happened or conceal the fact that a gag order was issued.
---
Sources have reported to the Carroll Cox Show that
Mr. Jeff Piontek
,
the Administrator and Head of the Hawaii Technology Academy ("HTA") Public Charter School (located at 94-810 Moloalo Street, Waipahu, 96797) has been removed from his position.

Sources also said the local School Board is chaired by Mr. Louis Saint-Cyr (phone 676-5444), and that the Board and Department of Education ("DOE") have tried to conceal this from the public and from media scrutiny.

Sources tell Cox that a gag order has been issued on DOE staff working closely to this situation. Follow-up calls by Cox to the DOE and HTA confirm Piontek has been removed, but no one will speak about the situation because of the gag order.

Cox spoke with Mr. Milton Ebesu, Community Representative for the HTA Board (in 2009-2010), who confirmed the removal but refused to speak any further. Records show that Ebesu also owns The Education Company and Education Works, which sell educational materials, retail and wholesale, as well as supplies, office, and school furniture.

Another source said Saint-Cyr was advised of Cox's inquiry and stated that he will be releasing a general statement for media and parents, as a result of Cox's query.

Here are the questions Cox sent to the DOE, and we are informed that Saint-Cyr has received a copy as well:

1. Was Mr. Piontek removed?

2. Why was he removed?

3. When was he removed?

4. What was his official title/duties?

5. What are the circumstances surrounding Mr. Piontek's removal?

6. Please provide any documents related to Mr. Piontek's removal.

7. Please explain what specifically led to his removal and subsequent firing?


---
There are still a number of open issues relating to the HTA and charter school situation. The Star Advertiser ignored the fact that the HTA failed to notify the public or media about the departure of two principals, and only acknowledged it publicly because we started asking questions. Louis Saint-Cyr and others should not celebrate based on the kid glove treatment the Star Advertiser afforded them. We will continue to keep you informed as we bring more information to light.
Carroll