| | |
| --- | --- |
| | Mayor Kirk Caldwell's Campaign at Honolulu Hale |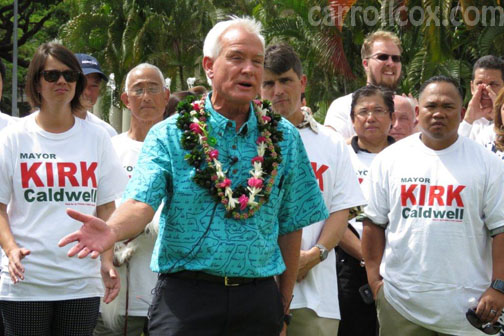 May 5, 2016
On May 4, 2016, Honolulu Mayor Kirk Caldwell declared his run for a second term as mayor of Honolulu. We were at the ceremony and found some quite interesting activities going on. There were a large number of people wearing T-shirts saying "Mayor Kirk Caldwell". They were also carrying signs with the words "Kirk Caldwell Mayor". Then, there was Kirk Caldwell himself giving a stump speech soliciting the group's support for his campaign.
All of this took place on city property at Honolulu Hale, or City Hall.
We were particularly taken aback by the presence of members of Caldwell's mayoral staff, including Jesse Broder Vandyke, Roy Amamiya and Andrew Pereira. We also observed the presence of the mayor's housing czar, June Yang, as well as Lori Kahikina, Director of Environmental Services, and Tim Houtin of Environmental Services.
We are concerned this event was not ethically right, and believe it is an abuse of city employees and resources in order to garner support and votes for Caldwell. We are also concerned that employees were at the event when they should have been working.
The employees' presence suggests that they were in violation of city ethics laws, and we believe the mayor and city workers should be called on the carpet for this indiscretion.
As a result of our observations, we filed an ethics complaint with the City Ethics Commission. Link here to read the formal complaint and view pictures of the event.